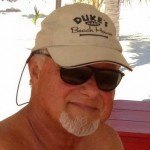 I'll never forget that day as I stood in a tiny regional airport out of the country along with only three other people awaiting the small plane that was to land shortly on a dirt runway. I'd forgotten I was wearing our sponsor shirt for an annual San Francisco foot race that been going on for over 90 years. Both our company name and logo were screen printed on the shirt. One of the three addressed me, "Hey– F. Lofrano & Son? They've been fixing my damaged vehicles for years. I love those guys! I always tell my friends not to go to any other auto body repair shops but them."
In our company newsletter we have a section reserved for what we call Customer Sightings and here was a particularly unique situation. So I thanked her for being a loyal customer and introduced myself. Taking advantage of the opportunity, I shared with her the 40 plus year history of F. Lofrano & Son, Inc. which goes like this:
My dad Frank Lofrano had been repairing cars in San Francisco for around 33 years before I began prodding him to partner with me in opening our own Auto Body Repair shop. Frank was my mentor while we worked for another auto repair business and he was an old-school craftsman who loved repairing damaged vehicles. One day he finally agreed: "Kid, go get your tools and let's get going." And so began our F. Lofrano & Son Auto Body Repair business at 1745 Divisadero Street in July 1974. In those days, we wrote all damage estimates and repair orders manually which changed for us with the advent of the personal and business network computer in the early 80's and the first management software we ever used.
Our business grew quickly by customers' word of mouth referrals. In fact, throughout our years of repairing cars and to this day, repeat customers and referrals are the best compliment we can get. Our business practices are ethical and we believe in good, honest relationships. My brothers, James Lofrano and Fred Lofrano, have been an integral part of the growth and success of our collision repair business since the early years. My sons Aaron Lofrano and Josh Lofrano have brought in new concepts while they keep the goal of serving our customers at the top of their lists.
F. Lofrano & Son, Inc. has seen a lot of change over the years and, in particular, with regards to Direct Repair Referral programs and environmental concerns. In order to stay compliant and fill the needs of the automotive customer, it takes strong commitment and the buy-in of a dedicated work staff. We need to be always changing, always improving. To that end, our people receive on-going training, both personal and professional, not only to ensure we continue to provide quality auto body repairs and great service but to keep up with ever-changing automotive industry technology. So much depends upon clear and direct communication and listening to our customers. It's just key. – Tony Lofrano