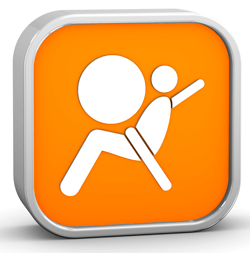 Today, airbags are required in every car sold in the United States as a safety precaution. In many cases, airbags do what they're meant to do: they provide a cushion in the case of impact and minimize the injuries to passengers. However, when they aren't installed correctly or passengers don't use other safety measures, like seat belts, airbags can cause injuries.
Airbag Safety Requirements
Although front airbags have been required in all cars sold in the United States since the late 1990's, they are still being improved upon. Many vehicles also include side airbags, rear-seat airbags, or front central airbags.
Airbags help to protect passengers in a crash by inflating on impact and preventing a person's head or chest from contacting other passengers or the hard interior of the vehicle. One of the ways that airbags cause injuries is by inflating with too much force.
In 2001, the National Highway Traffic Safety Administration issued a rule that by 2007, all passenger vehicles would include more sophisticated airbags. These sophisticated airbags are supposed to have modified deployment patterns, so they will deploy with less force or not at all, depending on the weight of a passenger. This can help small children or infants, especially in the front seat, to decrease the chance of injury by an airbag. [Insurance Institute for Highway Safety]
Avoiding Injuries from Airbags
In order to get the most protection from an airbag when it deploys and to minimize the likelihood of being injured from one, it's important to take some safety precautions every time a person is in a car.
Wear a seatbelt. Airbags are a secondary form of protection in a crash, and they are less effective at preventing injuries and more likely to cause them if a passenger is not wearing a seatbelt. It's important to wear the seatbelt correctly and keep it on.
Keep children in the back seat. Front airbags are designed for adults, and children are more likely to be injured when an airbag deploys. Children are safest in the back seat.
Sit back in your seat. The more advanced airbags that are currently required in passenger vehicles may inflate with less force or not at all if passengers are not wearing a seatbelt or are sitting too close to an airbag. However, when airbags don't inflate, they cannot help cushion the impact in the case of a crash.